Cinderella's Story Continues in Cinderella II & III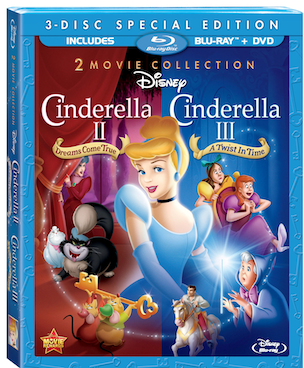 Being such a fan of Cinderella, I really hate to admit that I did not know there were sequels made! I know oftentimes subsequent movies are not as widely known or popular, but I've always wondered about life after the wedding. I mean, we know Cinderella became a princess, but that's where the story ends when in reality that is just where it begins! I looked forward to watching Cinderella II & Cinderella III with Rissa who has become quite the Disney Princess fan herself.
Cinderella II: Dreams Come True Special Edition
"As a newly crowned princess, Cinderella quickly learns that life at the Palace— and her royal responsibilities are more challenging than she had imagined. In three heartwarming tales, Cinderella calls on her animal friends and her Fairy Godmother to help as she brings her own grace and charm to her regal role and discovers that being true to yourself is the best way to make your dreams come true."
These tales were fun to watch, though I think my favorite was the first one about Cinderella being in charge of the Royal Ball. It was a huge honor and task to be given to her just after returning home from the honeymoon, but she figured out how to pull it off. At first she felt very out of place with the rules and dress being put upon her, but she stayed true to herself. Even though doing it her way meant a lot of changes from past Royal Balls and there was a risk it wouldn't be received well by the King, she did it anyway. Change can be good! I also liked the tale about Cinderella trying to help one of her step-sisters with her romantic interest. It was nice seeing a non-wicked side for once.
Cinderella III: A Twist In Time Special Edition
"Princess Cinderella is living a charmingly perfect life until her stepmother gets her hands on Fairy Godmother's magic wand. With a wicked spell that turns back the clock, she erases the Prince's memories of the girl he met at the ball and shatters Cinderella's happily ever after! Jaq and Gus scurry to save the day before time runs out. But was it all really just a dream in Cinderella's heart, or will true love triumph over all?"
This one was interesting but a little harder for me to watch – mostly because it felt so cruel to replay the past and try to shut Cinderella out of it. It made me dislike her step-mother even more than before. I mean, she is really evil and cruel in this one. There was an interesting dynamic with Anastasia, one of the step-sisters, that I appreciated though. I don't want to spoil anything, but I was glad to see Anastasia start to question her mother's actions and their treatment of Cinderella.
Regardless of my opinions of Cinderella II & Cinderella III, Rissa enjoyed watching both of these and was quite excited to see the mice so much! She sat through both of these pretty well and was all snuggled up with me. I definitely like the addition of the tales in Cinderella II and think that was a great approach to take for extended her story.
______
Disclosure: We received a copy of this title for review purposes.
Subscribe
Get weekly sanity saving parenting tips, recipes, and kids activities.