Bummas Cloth Wipes Review
So most of you know that we switched to cloth diapers in January. Naturally my next step is switching to cloth wipes, right? Much like cloth diapers, there are more cloth choices than I thought.
They are made with various materials, layers, and sizes. It depends on what you want in your wipe.
Coverage?
Absorbency?
Feel/texture?
If asked what my dream cloth wipe would look like, I'm still not sure how to answer that. I've only used two different kinds so far (besides a couple baby washcloths): Kissaluvs and now, Bummas.
I had won 5 Kissaluv wipes and was using them for a few weeks before asking to review Bummas wipes (Amazon link). (Another one I kept trying to win but hadn't been lucky enough to be drawn!)
They sent me the Wild Ones set – so colorful!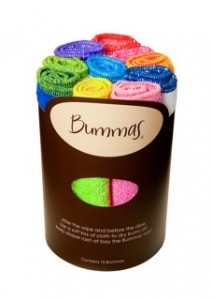 Before I washed them, I had to get a comparison shot – baby washcloth, Bummas wipe, and Kissaluvs wipe.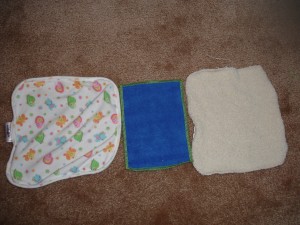 See the size differences?
Here's some of the product specs:
Eliminates the use oftalcum powder.
100% Cotton – Woven Velour Terry Cloth milled in the USA.
Variety of color combinations for nursery themes.
Handy 5" x 7" size. Won't pill, shrink, or fade. May need a little trim after washing.
Initially I was surprised at how small the Bummas wipes were, but they've proven to do a big job!
According to this cute rhyme, Bummas focuses on how they are great for drying baby's bottom. (This really is helpful between prefold changes!):
After the wipe and before the dipe,
A soft kiss of cloth to dry bums off.
Keep diaper rash at bay, the Bummas way.
They also suggest using their wipes to help safe guard against surprise squirts. I don't worry too much with Rissa (although she got me a few times in our first few weeks home!)  Bummas states on their site that one cloth can soak up an entire pee. I wanted to test this, but of course Rissa wouldn't wee when I wanted her too! And, well, she's too wiggly to try and leave on a Bummas wipe til she was ready to go again.
One side is smoother and softer, while the other is more "grippy."  They work great to wipe up messy bums, noses, spit up; dry baby's bum; and work as a wash cloth. Gotta love versatility! They have done well at cleaning up Rissa's bottom so far. I actually liked the smaller size better for cleaning up poo because I didn't feel like I was losing control of the wipe (bigger ones can get floppy, especially if you wipe/fold/wipe). I was also able to maintain a better visual as I cleaned her up. When she transitions to solids, it might be a bit more challenging, but maybe not.
The Good:
Versatile – plenty of uses!
Eco-friendly – reusable!
Colorful
Soft
Cleans up and dries off baby bums well
Size is handy
The So-So:
Some of the corner threads are fraying and getting stringy (but they aren't coming apart or anything and they say a trim may be needed)
I'd love 'em just a tish wider
I love 'em! I've been using them for about a month now and they are the first wipes I grab for!
Giveaway over
** FTC Disclosure: I received the product(s) mentioned above free of charge by the company or PR representative in order to conduct an honest review. I was not compensated in any other way for this post. The thoughts, experiences, and opinions included are entirely my own and may differ from that of others. I am not liable for any issues you may incur from use of said product(s).
Subscribe
Get weekly sanity saving parenting tips, recipes, and kids activities.