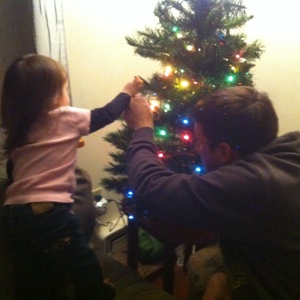 We know in our hearts that the holidays are about family and spending time together, but it is easy to get caught up in the hype of shopping and presents. For me it's been a real blessing this year having my son this month – it's given us more quality family time together! With Brian taking time off of work it's been wonderful with the four of us hanging out at home.
We engage in a variety of activities together such as dinner, shopping, playing outside, reading books, watching home movies, video games, and watching family movies. Since our kids are so little yet, we are still developing our own family traditions. Still, anything we do makes my daughter smile as long as she's included. Right now her favorites are family hugs and playing in the snow!
This is the first year Rissa is more aware of Christmas and Santa and gifts, but we are teaching her the importance of time with family by spending time together and with her aunts, uncles, cousins and grandparents. I want the presents to be a bonus, not her focus.
How do you bring your family together?
The Harlem Globetrotters in Milwaukee in New Year's Eve is a tradition for many local families. They are coming to the BMO Harris Bradley Center again this year with two shows on December 31, 2012 – 1pm and 6pm!

The Harlem Globetrotters love seeing families laugh together during our games, and would love to see your family when we come to a city near you. If you're looking for an awesome event the whole family will enjoy, get your tickets to the Harlem Globetrotters "You Write the Rules" tour. Your family's smiles will start before you even get to the game because this year, your family can vote at harlemglobetrotters.com, and decide rules for the game like two balls in play at the same time that could affect the final outcome.
After the game, Globetrotters will stay on court to sign autographs and take photographs with your kids. The only thing better than finding an event the whole family will enjoy, is getting a great deal on it. Save $7 per ticket* by using the promo code "TOGETHER". Get ready to experience a show your family will remember for a lifetime!
*Discount available on select ticket levels
______
Disclosure: We received complimentary ticket vouchers; no other compensation was provided.
Subscribe
Get weekly sanity saving parenting tips, recipes, and kids activities.