Bringing Back Memories With The Muppet Christmas Carol 20th Anniversary Edition
I've shared in the past that the holiday time can be a struggle for me emotionally, but I'm working on creating new traditions and memories for my kids. One way to get into the holiday spirit is with The Muppets. They pretty much always make me crack a smile with their wit and silliness. My husband is quite a fan of The Muppets (as our whole family is, really) so I couldn't resist the opportunity to receive The Muppet Christmas Carol: 20th Anniversary Edition on Blu-ray (available starting November 6, 2012).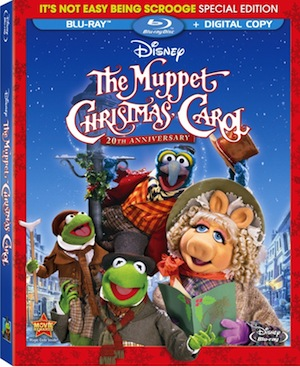 And now, a word from Gonzo: Greetings, holiday movie fans and lovers of culture, I am Gonzo … or perhaps better known to fans of this classic motion picture as literary legend Charles Dickens. Are you ready to laugh, cry, sing, frolic, cavort and enjoy yourself beyond belief!? Well, you're in luck, because this 20th Anniversary Edition of Disney's "The Muppet Christmas Carol" is guaranteed to put you in the holiday spirit that will stay with you forever—or at least until your Aunt Edna starts complaining that nobody is eating the fruitcake she brought … again!
We know the Christmas Carol tale well, but it's fun and interesting to see different takes and twists on it. I forgot that Gonzo took on the role of Charles Dickens and the multiple mishaps poor Rizzo found himself in! Brian and I also talked about how we didn't really know who Michael Caine (Scrooge) was when the movie first came out, but now we are much more familiar with his movie roles. Rissa's favorite parts were at the Cratchit's house so she could see Kermit and Miss Piggy.
I don't really like watching overly sappy holiday movies since I cry more easily after becoming a mom (and especially while I'm pregnant). This one fits into my favorites because it has a great takeaway message but is also humorous. While watching the bonus features I learned this was the first Muppet movie made after Jim Henson passed away and was directed by his son, Brian Henson. Even the extras are presented in that special Muppet way. Gonzo and Rizzo were pretty funny throughout the interview with Brian.
Blu-ray Bonus Features:                         
Disney Intermission—An all-new bonus feature. When the film is paused, fans can watch and "cluck-a-long" to five classic holiday-themed songs performed by the Muppets Chickens and chums.                                         
Audio Commentary—All-new audio commentary with fan-favorite characters, Kermit, Rizzo, Gonzo, and more, all reflecting on their experience making "The Muppet Christmas Carol."                                                          
Frogs, Pigs and Humbug: Unwrapping a New Holiday Classic. A Behind the Scenes Look—Hosted by director Brian Henson, Gonzo and Rizzo fans go behind-the-scenes of the making of "The Muppet Christmas Carol."
Blooper Reel: "On the Set" Bloopers from the set of the film.
Pepe Profiles Gonzo:  "Portrait of the Artist as a Young Weirdo"—A Special look at the man, the myth, the legend the Great Gonzo, hosted by the one and only Pepe the King Prawn.
 Christmas Around the World—Gonzo and Rizzo take a look at how Christmas is celebrated all over the planet.
______
Disclosure: We received a copy of this classic Muppet movie.
Subscribe
Get weekly sanity saving parenting tips, recipes, and kids activities.