Real Steel (Rated PG-13) – Comes out on January 24th on Blu-ray/DVD combo pack
My Synopsis: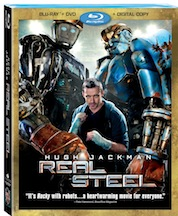 It's the future where humans don't box each other anymore. Instead, they've taken Battle Bots to a whole new level with tall two thousand pound robots controlled by humans that fight to the death. A winning bot can earn its owner a lot of dough, but getting too cocky can lead to a pile of useless, expensive junk. $45,000 is considered a good deal for a working one. One time human boxer, Charlie Kenton (Hugh Jackman) runs into a string of bad luck with money and robots. He also receives notification that his ex has passed away leaving their son, Max (Dakota Goyo), to be taken care of. Thing is, Charlie hasn't exactly been apart of his life, but he agrees to take him in for the summer. Max tags along with his father on the robot boxing circuit and ends up uncovering his own robot, Atom. There's something different about him, according to Max.
My Review:
This movie is enjoyable for a family movie night, but keep in mind the rating (mainly due to violence and some language). We started out not really liking Charlie, but as the story progressed, we enjoyed watching the father-son relationship develop between Charlie and Max. Then, he wasn't such a bad guy and by the end we were rooting for him. There were a few different times Brian and I would make guesses about upcoming scenes, but we weren't always right so it wasn't completely predictable. It's definitely reminiscent of Rocky but with robots though!
The movie is pretty fast-paced and intense. If you do not like watching action movies, especially fighting, well, you probably won't enjoy this one. Since it's robots fighting it seems less violent even though it's not. But, it's not showing PEOPLE getting seriously hurt. The other character we grew to love is Atim, the robot Max acquires. He's an older model with unique functionality and he is played with great personality. Excellent puppeteering for sure!
I don't want to give anything away, but there were a couple areas of the story that we felt sort of just stopped unnaturally. It left us wondering what happened to "so & so" and why that part of the story line just hit a deadend. Over all it had a satisfactory ending. This movie definitely positively reinforces the message of teamwork and by the end. trust.
Bonus Features:
There are a few bonus features included, my favorite two being Bloopers and Building the Bots. I was surprised that there was a blooper reel since you usually think of those as being part of comedy filming, not action adventure! But, there were amusing slip ups and missteps that had the crew laughing. I also could hear Hugh's accent more during the Bloopers! The bots feature was my absolute favorite. It was really cool learning about their use of REAL robots rather than all CGI ones in order to have better actor interaction. I think that was a fabulous idea. It took a lot of work for them to create/design them (none are based off any other robots out there),build them, and learn to puppet them. It really helped make the acting more authentic, in my opinion.
Get to know Atom, our favorite robot!
REAL STEEL DISCOUNT COUPON!
For a limited time, Dreamworks is offering $5 OFF the purchase of the Real Steel 3-disc Combo Pack. Those interested should visit http://www.steelgetsreal.com/, and click on the offer in the upper right corner of the page. Offer ends 1/29/12.
Subscribe
Get weekly sanity saving parenting tips, recipes, and kids activities.