Because Prompts are Fun: 20 of My Guilty Pleasures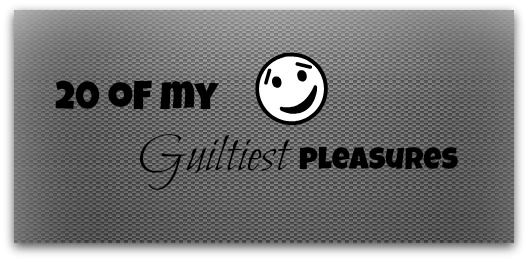 Being a mom I am teeming with guilt: mom guilt, wife guilt, education guilt, food guilt… It never ends!
Heck, yesterday evening I was supposed to leave hubs with the kids for a couple hours while I checked out a local girls night out event. I was looking forward to it but decided at the last minute not to go. If just didn't sound fun enough to justify the guilt about wanting to get away and actually getting away.
I have plenty of guilty pleasures though! Guilty pleasures are things I enjoy but either should not or am embarrassed to admit…so here we go!
My 20 Guilty Pleasures
Snickers peanut butter squares
Movie theater popcorn with extra butter
A Solly's burger(it's a Milwaukee thing)
Nickelback (and other "light rock")
Hair metal
Tosh.O
Reading Facebook drama and 

comments on The Stir

Reading trashy romance novels (the explicitly descriptive kind)
Wearing socks with sandals
Hollywood Treasure
Storage Wars
Romantic comedies
Scalp massages at the salon
90s sitcoms
Jon Snow (from Game of Thrones)
One hit wonders
20 minute hot showers
Yoga pants
Tour shirts
Still saying "dude"
Do we share any of the same guilty pleasures? Tell me one of yours!




Subscribe
Get weekly sanity saving parenting tips, recipes, and kids activities.