The end of the year flies by, doesn't it? It's like we wait all year for Thanksgiving to get here then you blink and it's New Year's Eve. The past week has been great for family time here and I hope it has been for you too!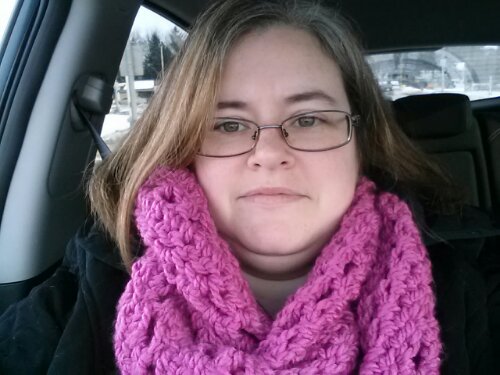 The internet offers a new way to say thank you by sharing on social media, like my picture of this scarf Brian's aunt made for me.
Life has changed in a lot of ways thanks to technology. It's pretty fascinating when I think about all the advancements I've seen in my life. From video game consoles to the home PC; the internet coming to town to social media. Even though there are days I want to unplug and go completely off the grid, there are more days where I'm thankful for how the internet has impacted my life.
Top 5 Reasons I'm Thankful for the Internet
1. It's where I met my husband. Probably my favorite thing about this crazy digital life of mine. At the time (over 10 years ago) it wasn't mainstream yet, but I'm glad I took a chance! Credit is due for other personal and social connections too. It's provided me a different way to find other moms to talk with and maintain other family ties.
2. I can work from home. Becoming a stay-at-home mom wasn't my original plan, but it ended up being the best for our family. However, I missed contributing to our income and am grateful for the ability to work while home with my kids. I admit this does add another layer to balance though.
Find the other 3 reasons on BabyZone!
Confession: I Secretly Wanted Twins
"Are you sure you're not having twins?" I was asked a few times during both of my pregnancies. While some expectant mothers don't like being asked that question (can't blame them, it's usually aimed at the size of their belly), I felt a little giddy each time I heard it during my first pregnancy. The thought of having twins was exciting to me.
I've always wanted at least two children and the idea of twins was appealing. One pregnancy, two babies! With feeling pressure to have kids before I get too old, this seemed like the best way to speed things up.
Subscribe
Get weekly sanity saving parenting tips, recipes, and kids activities.