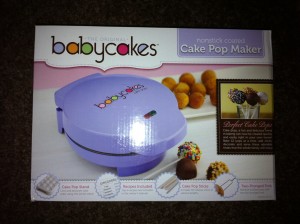 I've been wanting to bake more, quite possibly because I'm home. While working full-time with a commute it certainly was harder to get motivated about cooking and baking. Although, Rissa keeps me busy too so it can be hard to get the necessary hands free to do things in the kitchen. However, one of the things I've been really wanting to try is to make cake pops. I love cake and these are such cute and easy ways to eat them! I was very thrilled to receive the opportunity to review the Babycakes Cake Pop Maker!
I seriously cannot tell you how excited I was about this! The maker looked so easy to use and came with a tray and lollipop sticks to use. The instructions were easy to read and included recipes for cake pops and glazes to use. It's recommended to bake one of the included recipes, but I had to go with a box mix for now. You do want a moist batter so I got one of the "moist" cake mixes.
I checked over everything that came in the box to make sure I had all the parts. I wiped the maker with a damp washcloth since it should not be submerged in water. The plates are attached so you can only handwipe to clean it. I noticed a scratch on it though, which was disappointing. I'll have to make sure it doesn't flake or rust.
I gathered up all my ingredients and baking tools. After mixing up the batter I plugged in the BabyCakes Cake Pop Maker. The instructions suggested doing that after the batter was ready because it wouldn't take long to heat up. The light is red, letting you know it's not ready, but is getting power. Once the green light came on, it was ready. The preheating really was fast! I measuring spoon to help put the batter in though it seemed like it was baking too much while I worked to fill them. Maybe I was just to slow?
I thought I measured about as much as recommended, but the batter overflowed while baking. It was leaking out the side and baked across the plate. The few cake balls that were separate were nicely shaped, but the rest were not easy to separate from the overflow. Gave me an excuse to eat a few "damaged" ones right away.
I made a second batch, which I filled each cup up less. They came out looking nice except they were small and not very round. I was expecting nice perfectly round spheres, but that's not what I got. They still tasted good and looked fine on the sticks with frosting and sprinkles.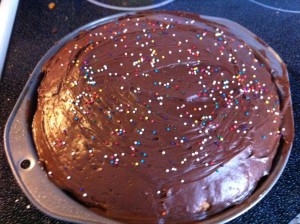 I didn't want to make a ton of cake pops since I didn't have room for all of them to cool. After making two batches I used the rest of the batter to make a cake!
Pros:
Easy to clean – Although I can only wipe it clean, it was easy due to the non-stick. If batter starts sticking, it has suggestions in the instruction booklet on applying a bit of oil
Heats up fast
Bakes fast (4-6 minutes per batch)
Small and easy to store in the cupboard
Nice place underneath to wrap the cord up!
Comes with recipes
Cons:
Hard to open with an oven mitt on (it's HOT so you don't want to touch it with bare hands)
Short cord
It's hard to measure to prevent overflow (might just be me!)
Final thoughts:  I've only used a box mix so far. This may affect results! I'm also not a super experienced baker so it'll take some practice to fill them just right so I get the nice, beautiful round pops. I'm looking forward to making cake pops for my daughter's first birthday party in a few months!
______
Disclosure: I wrote this review while participating in a campaign by Mom Central Consulting on behalf of Babycakes and received a product sample and a promotional item to thank me for taking the time to participate.  I received the product(s) mentioned above free of charge by the company or PR representative in order to conduct an honest review. I was not compensated in any other way for this post. The thoughts, experiences, and opinions included are entirely my own and may differ from that of others. I am not liable for any issues you may incur from use of said product(s). Images used are owned by me or provided with the company's permission unless otherwise sourced. See full disclosure information. If you have any questions you can contact me or leave a comment.
Subscribe
Get weekly sanity saving parenting tips, recipes, and kids activities.