Breastfeeding Nursing Cover Alternative: BabyBond Review
Previously I talked about my experiences nursing in public. Due to my own modesty, I haven't been very comfortable nursing in public. Using a blanket is a pain because I have to try and keep it over us while holding babygirl, getting one of the girls out, and trying to see what is going on. I don't generally keep the blanket over Rissa's head, rather I try to wrap it around her and make a wall once she's latched but it's a challenge… I hate wrestling with that darn blanket!
It's not a good solution. It's uncomfortable and impractical. Rissa yanks at the blanket and I'm afraid to show too much skin (be it breast or belly).
Enter BabyBond (Amazon). It's an ingenious approach to a nursing cover that covers mom, but not baby! I've been trying to win one for a couple months so I was thrilled to have the opportunity to review my very own! I selected the Couture style to review because of its versatility – it can be used for covering the top or go underneath to cover belly and back. I wear more shirts that I need to lift up when I nurse, but I also have several shirts that I can nurse out the top.
My BabyBond arrived quickly in a cute box. The instructions are on the box as well as on a tag stitched inside. This is awesome because I don't plan to drag the box with me everywhere and the instructions are handy in case I need to reference them. I did wash it first as I do with just about anything and everything that comes in contact with baby's skin.
Besides being able to use over or under my shirt, I like that the couture style isn't sized. That way it can be adjusted as needed. I liked how easy it was to put on and how light it was – I believe it will be comfortable to use in the summer. At least, it'll be more comfortable than a blanket when it's hot and humid out!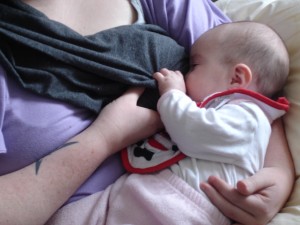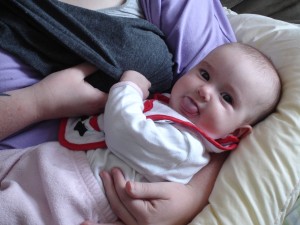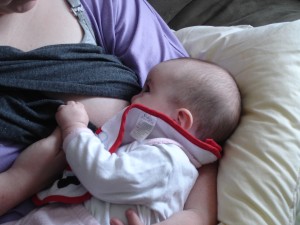 I do suggest practicing with it at home a bit to get used to how it covers you. In our first attempts, there were times the fabric opened up too much around my breast but that was due to how I was moving it and us around. And, as you can see above, baby's grabby tuggy hands can open it up too. I love how easy it is to slip into my diaper bag or purse when we go out. It doesn't take up much room at all!
The Good:
Light, breathable material
Rolls into its own pouch for easy travel
Covers mom to make nursing in public more comfortable for her
Easy to see and interact with baby
Doesn't draw a lot of attention
Instructions attached
Suggestions:
More color choices
A way to cover both breasts so it's easier to switch sides while nursing
In summary:
I definitely recommend BabyBond! I kinda want another one so I can have a couple color choices when I go out.
**Giveaway ended and prize fulfilled**
______
*FTC Disclosure: I received this product for review free of charge by the company or PR representative. I was not compensated in any other way for this post. The thoughts, experiences, and opinions included are entirely my own and may differ from that of others.
Subscribe
Get weekly sanity saving parenting tips, recipes, and kids activities.