Baby, Toddler and Kid Black Friday Deals!
Now is a great time to stock up on your favorite baby food, gear, toys, and accessories. Whether they are for yourself, a holiday gift, or for future baby shower gifts, you'll want to take advantage of some of these hot deals! I have to be careful not to overspend – these deals are way too tempting.

11/23-11/25 25% off everything at Ergobaby  – no code required!
Ty's Toy Box – 20% Off Black Friday Sale 11/23-11/25. No minimum purchase, just use code BLACK20 at checkout. They have a TON of awesome kids stuff including our favorite – Yo Gabba Gabba!
Take advantage of 30% off of the winning brands from Diapers.com's Battle of the Brands event. Deals on baby food, strollers, skincare and more!
Sale ends 11/26/12.
30% Off Earth's Best Baby Food Code: DBATTLE
30% Off Prince Lionheart Bath/Potty Seats & More Code: DBATTLE
30% Off BabyGanics Baby Bath & Skincare Code: DBATTLE
30% Off JP Lizzy Diaper Bags Code: DBATTLE
30% Off Britax Strollers, Travel Systems & Frames Code: DBATTLE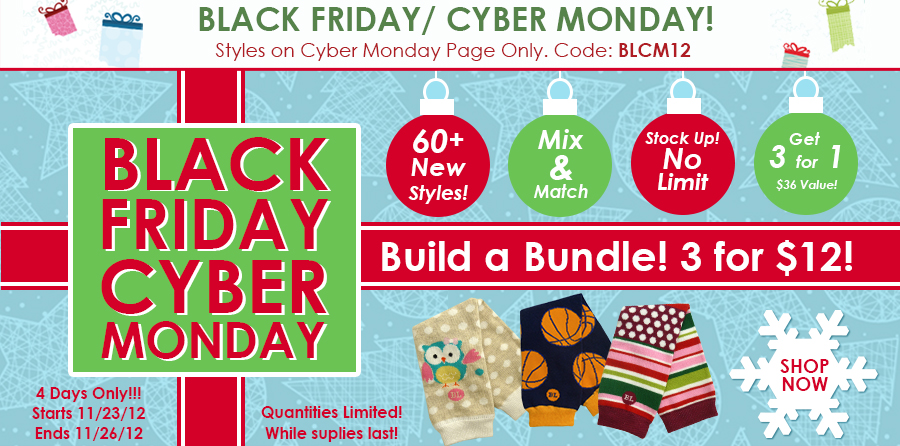 We LOVE BabyLegs around here and I think this is a sale I'm going to have to shop today. It's hard to pass up the chance at 3 sets of leg warmers for only $12! They are releasing 60+ EXCLUSIVE styles just for this sale (Only styles on the Cyber Monday page are included). Plus, get FREE SHIPPING on Black Friday ONLY! (from 12:01am- 11:59pm)
Go get some BabyLegs Leg Warmers now with coupon code BLCM12
Diaper Junction – Has Double Reward points and up to 40% off from now through Cyber Monday on cloth diapers and accessories (like $6 Thirsties covers!).
Wayfair also has some deals on toys from now through Cyber Monday!
Up to 60% Off Backyard Play
55% Off Ride on Toys
55% Off Pretend Play
Have fun shopping! If you get any of these, I'd love to know!
______
Disclosure: Contains affiliate links. Thank you for your support this holiday season.
Subscribe
Get weekly sanity saving parenting tips, recipes, and kids activities.