Are You Part of the Donate Movement?
The holidays can be stressful for many families, especially in hard economic times. I've shared before that my family struggled as I was growing up. There were many times that the generosity of others made a big difference for us. From donated clothing and toys to the food pantry. I even received presents by way of the giving tree at the mall a couple of years.
It can be embarrassing for some to utilize other resources to provide for their families, but it is an important resource to have available. We try to donate year round to various programs in our community, but we most frequently donate to Goodwill. We shop there sometimes too. Though I admit to preferring brand new stuff most of the time, I can and will search for second hand clothing to be frugal as needed.
Recently I had the opportunity to interview Lorie Marrero via email. She is the national spokesperson for Goodwill® and ambassador of the Donate Movement.
The Donate Movement challenges all of us to donate responsibly and conscientiously. It's important to teach our kids the positive impact that donating has on both people and the planet. Donations of gently used clothing and household items to Goodwill fund job training to people in need while improving the environment by diverting items from landfills.

Each month, Lorie Marrero shows us that cleaning out our closets and donating is one way to live simply, live green and have community impact.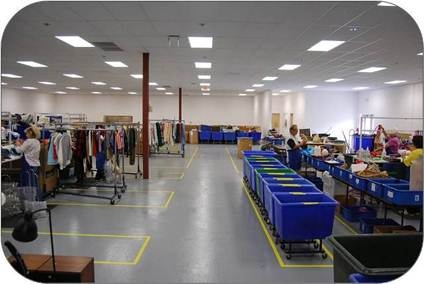 1. What types of items seem to be the most popular to be donated / be purchased in store?
Clothing is generally the most popular item to be donated and purchased. Goodwill® agencies are autonomously operated in each local area, so this answer may be different in various locations. As far as what they'd like to see coming in, donations of t-shirts and denim are considered valuable, as are any luxury items that can be auctioned. Everybody loves a good find! For more information, call 1-800-GOODWILL or visit http://www.goodwill.org.
2. Do you notice a trend in what months see the highest amount of donations?
By far, December is typically the highest month for donation volume, since people are motivated to donate by year-end to receive a tax deduction. They also are motivated by the new year coming and having a fresh start, and they have some time off to attend to their organizing projects. The Clutter Diet team is also very busy at that time of year on our website too, helping people declutter with our online program! (http://www.clutterdiet.com) We've helped thousands of people in 18 countries with personal advice from our expert team.
3. What types of items should people stay away from donating?
People should check with their local Goodwill agencies to make sure, but what I have learned from touring many Goodwill facilities around the country is that "there is no such thing as a bad textile." Goodwill recycles textiles and many other household materials, and indeed in 2011 Goodwill kept 86 pounds per SECOND from ending up in landfills! If you have some clothing that is tattered or unsellable, most Goodwill agencies will be glad to accept it and are especially appreciative if you bundle it separately and label it for textile recycling. Sending items to textile recyclers gains more value from the donations and keeps billions of pounds of items out of landfills while earning revenue from its sale to fund Goodwill's job training programs, which help more than 4 million people each year. Usually local Goodwill websites will have a list of things they accept or not, so you can check there easily for other questions.
4. What happens to the donations that do not sell in the store?
As mentioned above, most Goodwill agencies do an outstanding job of recycling everything they possibly can, adding a different revenue stream to fund the mission. Often what doesn't sell within a set amount of time in stores goes to a Goodwill outlet center to be sold to the public by the pound, and whatever remains after that is sold to various textile recyclers. Very little goes to waste, and I know that here where I live, in Austin, they have a zero waste goal for the future. If you want to see resourcefulness in action, tour a Goodwill facility! You will be amazed.
_______
Thanks so much to Lorrie for sharing this information with us. I didn't know much about the textile recycling!
Have you donated to Goodwill lately?
Subscribe
Get weekly sanity saving parenting tips, recipes, and kids activities.