AppGear Combines Reality With Virtual Gaming World
As mobile gaming continues to rise with the use of apps on smartphones and tablets, so too has the notion of combining real world elements into game play. Augmented reality apps and games are a hot trend right now. Mixing real and virtual doesn't always work well in video games even though the idea may seem incredibly awesome. Mobile gaming has made it more of a possibility, I think, because of the freedom of movement that you don't get with your desktop computer or gaming console. That and the built in camera adds fun ways to blend the two worlds together.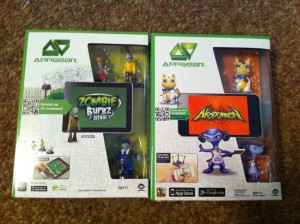 We received a couple AppGear games by Wow Wee Toys to try out: ZombieBurbs – Avenue and Akodomon. Brian got to test out ZombieBurbs because he likes zombies and it needed a tablet to play on. I tried Akodumon because, well, it has cute monsters! Plus, it could be played using my iPhone. AppGear games can be played on a variety of Apple and Android mobile devices, but all games don't work with all systems. It's important to check and make sure that your device will work with the game you are interested in – especially if you have an Android tablet since they don't all have the same operating system (some devices can't upgrade/update).
The concept of these games is fun and I think they are ideal for kids 9 years old through teens. I believe they will enjoy these more than other gamer adults like ourselves (though I could be wrong). We were both left wanting more out of how the real world played into these games. For the most part the pieces that come with these games are just for show. The monsters for mine are in the game, but I don't need the figurines to play.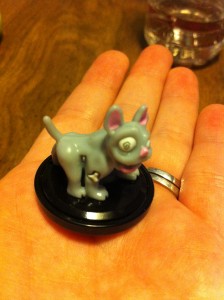 Brian needed only one zombie piece to control his tower defense game, but he found it made playing more difficult. Plus, it would not work without a screen protector. We rarely use them on our devices, so this was not convenient for us. It worked much better once the screen was applied though. To activate the game within the free apps you have to scan a QR code which caused both of us some issues. It doesn't always scan easily so you have to be patient and keep trying. (Don't give up, never give up~)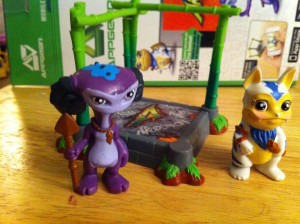 For Akodomon, after scanning the "cage" to unlock my monsters, none of the pieces are needed to actually play. It's much like playing any other app on my phone where I fought bad guys without much interaction. You can collect more monsters and scan them to unlock them… and you get to watch your monsters grow as you level them up. If your child likes games such as Pokemon or Skylanders, they might be a fan of Akodomon. You can make your little guy appear in the "real world" via the camera and he goes in the "cage" to train, be fed, and be washed,  Other than that, it's just played in the app.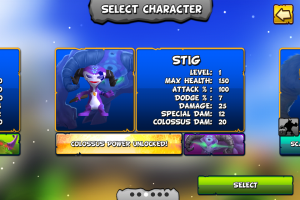 We might be holding to critical of an eye as we evaluated these games from an adult perspective. I do think kids would have fun with these, especially if they like to collect things. I also think there is a lot of potential in this gaming trend and with these overall game concepts.
______
Disclosure:  We received the above mentioned AppGear games to review. Affiliate links included in this post.
Subscribe
Get weekly sanity saving parenting tips, recipes, and kids activities.