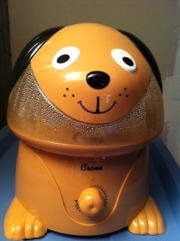 What's one thing that we worry about for our kiddos? Their sleep. Are they comfortable? Warm enough? Cool enough? Dry enough? Are they breathing okay? Our minds go a mile a minute worrying, making lists, checking them off, and peeking in our babies "just one last time."  I know thing I like to have on for myself in winter is a humidifier. With the furnace running the already dry air just gets drier. It makes breathing at night uncomfortable at times. And if you are prone to nosebleeds like I am, ugh. Dry air is NOT our friend.
We received the opportunity to review a Crane Humidifier. Rissa recently learned the baby sign for dog, so I thought she'd like getting the puppy one from their Adorables line! This cutey does not require a filter and has a safety shut off sensor. It is a cool mist humidifier, which is what is recommended for use in nurseries rather than warm mist humidifiers. When I was researching SIDS (Sudden Infant Death Syndrome) prevention, one of the suggestions was using a cool mist humidifier.
This little guy works pretty nice. He traveled up to my parents' home with us because Rissa and I had colds (we weren't about to reschedule the trip!). He's pretty easy to fill up but it needs to be done in a larger sink, like a kitchen sink. Our bathroom sinks weren't able to accommodate the size and location of the opening. Otherwise it is very easy to use. Not having a filter is a plus to me! We used to have a machine that required it but it was very gross. I remember seeing mold on the filter once and it grossed us all out so much we threw the whole unit away. Although there isn't a filter it is important to empty the water in order to disinfect the tank and water basin with water and white vinegar.
When you turn it on high enough, you can see the mist coming out. We didn't need to have it on full blast though. As you can see in the picture I took, there is condensation on the tank window. This is because we had it working too hard. Turning it down so it outputs the right amount of moisture makes a difference. Speaking of difference, I could feel the difference when it was on, especially when I'd leave the room and come back. Let's just say, I didn't want to turn it off! It was also very quiet so it did not disturb any sleep.
Product Features:
Increases air moisture for easier breathing and a good night's sleep
Relieves cough, cold, and flu symptoms, including nasal congestion, dry cough, sinus irritation, nose bleeds, dry skin
1 gallon water tank runs whisper quiet up to 24 hours
Mists up to 2.1 gallons of moisture per day
Effectively humidifies rooms up to 250 square feet
Auto shutoff safety sensor
Uses less energy than a standard household light bulb
Does not require a filter
Besides humidifiers, Crane also offers air purifiers, heaters and fans.
Want to buy? You can find Crane humidifiers on Amazon
or at a local store such as Target; Bed, Bath & Beyond; and Babies R Us.

Want to win one? Be sure to come by and enter our A Blogtastic Extravaganza giveaway 1/23-1/28!
Subscribe
Get weekly sanity saving parenting tips, recipes, and kids activities.