Sometimes I think we go overboard on toys at our house. Actually, I know this is the case. We have quite a mixture from educational to cheap crappy toys; wooden and plastic… Rissa enjoys them all. I have noticed that she does really enjoy playing with simple wooden toys. She often enjoys them much more than I would expect. Take this ALEX Jr Sort and Count toy, for example.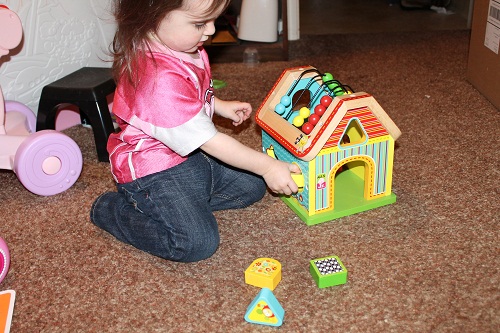 Originally I figured this would be saved for Xander. I just asked Rissa to check it out for me. This wooden house with beads and shapes is ideal for 10 months+ though I didn't think a 2 year old would be so interested in it. I should have known better – she loves playing with bead mazes while waiting at the doctor's office. I always know it's a good toy if her playtime surprises me!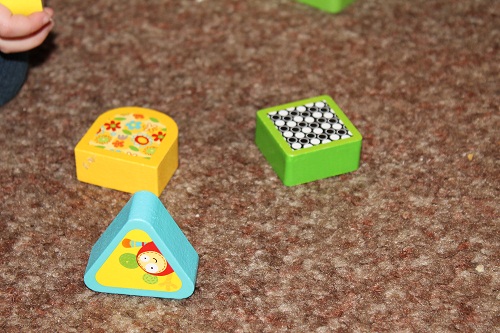 Everything is brightly decorated. The shapes get caught a bit at times when they are put through their respective slots. This caused some frustration initially, but we worked on being patient and taking our time to line the shapes up properly. The edges have mostly been rounded so they aren't sharp.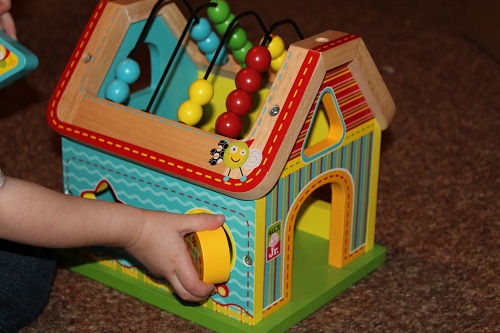 We've used the Sort and Count for counting and shape recognition, but Rissa has fun just playing with it all by herself too. She's brought it out several times since we first opened it. Besides pushing the beads back and forth and putting the shapes in, she's also used the house for her other toys to live in! Only one issue I have…I know why there are big, wide doors on the sides, but I wish there was a better way to store the shapes when not in use so as not to lose them. We are currently looking for the missing star. Other than that I think it is a great toy to offer babies and toddlers!
Available directly from ALEX Toys or through Amazon.
___________
Disclosure: We received one of these toys for review.
Subscribe
Get weekly sanity saving parenting tips, recipes, and kids activities.