We've talked about why small businesses are important to me and why local businesses are essential to where I live. Now I want to get into the shopping spirit! I'm not a Black Friday shopper, but this weekend I'll be out for Small Business Saturday. And I may or may not shop on Cyber Monday. I really don't have to buy much more for the holidays – I just keeping finding cool stuff I want to get!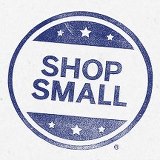 Sometimes online it can be tough to figure out if a business is truly considered small or not, but I consider pretty much any online cloth diaper retailer to be small. Etsy shops definitely are and should be recognized this weekend too. While I think it's important to get out and support your local community, I think it's also important to spread the love around when you are shopping online as well!
Here are a few online shops I really like and/or think are worth checking out:
Diaper Junction was the first place I ever ordered cloth diapers from. I've since ordered from a few different places, but I do continue to shop through them as well. I love their fast shipping!
Honeybuns Cloth Diapers is an Etsy retailer I just learned about the other day. She has some of the most adorable diaper prints and I want to spend too much money there!
Belly Charms makes beautiful mom and mom-to-be jewelry including belly rings, bracelets and bracelets. Gorgeous, quality work!
Here are a few local businesses I love and/or want to shop at this weekend:
Amy's Candy Kitchen has gourmet candy apples and various other confectionery.
Out & Out Custard Stand has delicious shakes, customizable custard sundaes and yummy panini sndwiches. They are open year round too!
Dave's Bread & Bagel Cafe has super tasty bagels and Chai tea.
Chocolate Chisel has chocolate. Enough said.
Cedarburg Holidays used to be Legacy Scrapbooks, so I'm curious to check out the new store.
Okay so most of them are food related, but yum!
Where do you like to shop small?
_______
Disclosure: I participated in a campaign on behalf of Mom Central Consulting for American Express. I received a promotional item to thank me for participating.
Subscribe
Get weekly sanity saving parenting tips, recipes, and kids activities.