Video is everywhere! Video calls, hangouts, trainings. Video content. Video apps. Pictures aren't enough anymore – people want to see you move and talk.
I'm dabbling more and more in video through vlogging and Google Plus Hangouts. No longer can I stay in my pajamas or yoga pants without a bra or a brush through my hair until noon.
Or can I?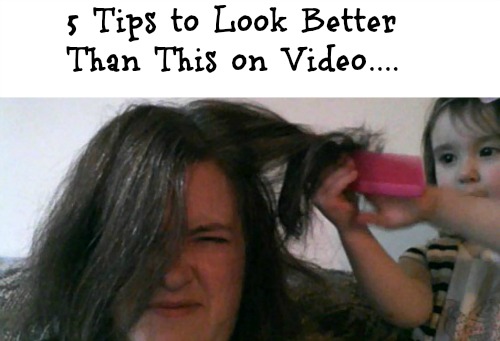 I will be the first to point out that I've looked horrible in many photos and vids I've shared. No way do I look perfect, but I am figuring out how to look more presentable. Whether you vlog, hangout on Google+ or Skype, you might find some of these tips helpful and you can put them to use today.
5 Simple Tips to Look Better on Video
Bonus Tip – don't let your children style your hair for you. (Video)
1. Keep the light source in front of you or at least to the side.  If it is behind you then it's harder to see your face. Otherwise we'll think your silhouette is part of the Witness Protection program but wonder why your voice isn't garbled. There is a lot more to great lighting techniques, but the most basic one is not to make your audience look directly into it.
2. Look at the camera lens.  I am really working on this one. It's nice to feel like the person on my screen is making eye contact with me. That does't happen when they look down at the screen. It happens when they look directly at the camera lens. (I'm considering this special teleprompter mirror thing that helps you look at your web cam during video chats. Guy Kawaski shared it on G+ recently and I put it on my wish list for now.)
3. Tame that mom hair!  Okay, this is the biggest one for me. Remember my earlier videos with my hair pulled back into sloppy ponytails? Yeah, I have the worst hair wings. Not cute. And let's not forget my gray roots. Now I combat both of these issues with a couple products I've received for review. My gray gets covered by a spray on root concealer. My frizzies and flyaways get tamed by the new VO5 Salon Series Anti-Frizz & Shine Styling Cream (Amazon link). Heck, even their Salon Series leave in conditioner helps since I can use it on dry hair as well as wet.
4. Add a touch of makeup.  I really am not a makeup wearing person, but when I participate in Hangouts (especially live On Air ones) I put some on. Foundation and lip gloss can go a long way. It's so easy for my vampire-like pale skin to look washed out in a well light room. Adding a little color helps. Oh and if you wear glasses too, might want to push them up further on your nose than you normally wear them. I try hard not to adjust them while on camera. Plus, it helps to avoid your audience from seeing your glasses line cutting across your eyes.
5. Dress up your top half!  Have a beautiful blouse but unsure on dress pants? No worries. If you know the camera will only show you from the waist up (or more likely shoulders up), just focus on the shirt. I once watched a video interview where both participants admitted they weren't in full suits. Both wore very nice shirts and jackets, but one had on yoga pants and the other had no pants at all!
There you have it. 5 tips you can use today or on your next video chat!
What other tips do you have for looking better on camera?
Subscribe
Get weekly sanity saving parenting tips, recipes, and kids activities.