12 Days of Gifts Galore: Wise Alec Trivia Game
The 12 Days of Gifts Galore giveaway event is going on now and ends today (December 6th)! Be sure to enter to win a prize from this event sponsor!
With computers and video games, sometimes it feels like board games are a thing of the past. They aren't, but we don't bring them out quite as often anymore. Most board games seem to have an electronic version making it easier to sit back and do little during the game. Wise Alec is a family friendly game geared towards ages 8+. It's a trivia game filled with information from grade school.
Gulp, do I remember half that stuff?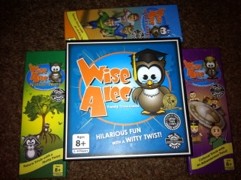 We received the Wise Alec Family Trivia Game and three travel/expansion sets. The board has a starting point but no real end since the "end" is predetermined by the amount of points someone wins. Before starting, you choose your point goal. This makes it easier to level the playing field between children and adults playing since each player could have a different point goal to reach in order to win.
The travel can also be used to expand your game. I like that you can use them for on the go and as an addition. While the trivia may seem less flashy and fun (no paparazzi or pop culture… instead its got History, science, spelling…) it's good for making your mind work. Definitely a fun way to keep kids engaged in the material they are learning in school!
Where to buy: Amazon
______
FTC Disclosure: I received the product(s) mentioned above free of charge by the company or PR representative in order to conduct an honest review. I was not compensated in any other way for this post. The thoughts, experiences, and opinions included are entirely my own and may differ from that of others. I am not liable for any issues you may incur from use of said product(s). Images used are owned by me or provided with the company's permission unless otherwise sourced. See full disclosure information. If you have any questions you can contact me or leave a comment.
Subscribe
Get weekly sanity saving parenting tips, recipes, and kids activities.