12 Days of Gifts Galore: Softlips Holiday Flavors
The 12 Days of Gifts Galore giveaway event is going on now and ends today (December 6th)! Be sure to enter to win a prize from this event sponsor!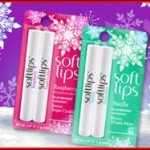 Treat your lips with Softlips holiday flavors: Winter Mint, Sugar Cookie, Sugar & Spice, and Sugar Plum Berry. I'm a lip balm/chapstick junkie so I was very happy to receive a set of the holiday/winter flavors. If you are shopping for women who live in colder climates like me, they will definitely appreciate a gift to protect their lips!
The flavors are not strong or overpowering, but more like just a hint of flavor. If you like the regular Softlips, you should enjoy these festive ones! My favorite flavor is Sugar Plum Berry, though I like the tingle of Winter Mint.
Here are some ideas of how to be "so thoughtful" in gift giving this year:
Be "so thoughtful," and give the gift of beauty this holiday season! Softlips' beauty and style expert, Jenn Falik, offers great beauty gift ideas that you can customize for someone special, whether it's a homemade beauty basket sampler, a glittery holiday stocking filled with pretty presents that pamper or the "little extra" finishing touch of a treat of Softlips lip balm pack tied with a ribbon on a gift! Perfect for sisters, mom, teachers, babysitters….beauty is the gift that keeps on giving. You can watch it here.
Where to buy:  Throughout winter there will be select dual-packs (Winter Mint/Vanilla, Sugar Cookie/Raspberry, and Sugar Cookie/Cherry) available at Walmart, Target, and Rite Aid for $3.99. There's an exclusive set is packaged in a festive, blue sachet that offers all four winter flavors and a bonus flavor of Mint with a Hint of Vanilla. This set is only available online at Softlips.com for $9.99.
These make great stocking stuffers!
Connect with Softlips! 
______
FTC Disclosure: I received the product(s) mentioned above free of charge by the company or PR representative in order to conduct an honest review. I was not compensated in any other way for this post. The thoughts, experiences, and opinions included are entirely my own and may differ from that of others. I am not liable for any issues you may incur from use of said product(s). Images used are owned by me or provided with the company's permission unless otherwise sourced. See full disclosure information. If you have any questions you can contact me or leave a comment.
Subscribe
Get weekly sanity saving parenting tips, recipes, and kids activities.