12 Days of Gifts Galore: Snack & Play Travel Tray
The 12 Days of Gifts Galore giveaway event is going on now and ends today (December 6th)! Be sure to enter to win a prize from this event sponsor!
It won't take long before Rissa is bored in the backseat. Right now she's usually pretty content with one toy to occupy her on short trips. On long trips, it doesn't really matter because she gets frustrated anyway. When we go for stroller walks, she usually clutches her toy the whole time and looks around or points. When she does start needing more entertainment while on the go, we'll be making use of the Snack & Play Travel Tray by Star Kids Products. Right now though… Rissa doesn't want it on!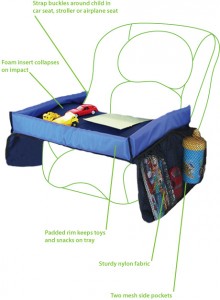 The tray design is simple, practical and functional. It belts around whether in a carseat or a stroller and provides a somewhat stable lap tray. The raised sides keeps things from rolling off and the side pockets make a nice place to tuck things. The tray is not a solid tray so it will collapse if there is a collision or need for it to.
The only downside I see to it at this time is having to clear the tray off and remove it every time you take the little one out of their seat. It's not a huge deal, but could be a bit bothersome. Otherwise I see this as a great option especially for those that drive a great deal.
______
FTC Disclosure: I received the product(s) mentioned above free of charge by the company or PR representative in order to conduct an honest review. I was not compensated in any other way for this post. The thoughts, experiences, and opinions included are entirely my own and may differ from that of others. I am not liable for any issues you may incur from use of said product(s). Images used are owned by me or provided with the company's permission unless otherwise sourced. See full disclosure information. If you have any questions you can contact me or leave a comment.
Subscribe
Get weekly sanity saving parenting tips, recipes, and kids activities.