12 Days of Gifts Galore: Bronte & Frank Go To Moscow Traveltivity Book/CD
The 12 Days of Gifts Galore giveaway event is going on now through December 6th! Be sure to enter to win a prize from this event sponsor!
Bronte & Frank Go To Moscow is a unique traveltivity book and CD set. It's designed for children ages 3+, so I will be holding onto it for Rissa! It features a cute story of Bronte, a young girl, and her bear, Frank, who go on an adventure around the city of Moscow. It's a hard cover picture book full of learning activities, stickers, recommendations, and a CD with songs. A portion of book sales goes to Diema's Dream Foundation which assists disabled Russian children.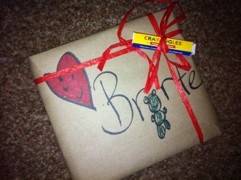 I loved how it arrived like a present from Bronte herself and included some crangles (triangular crayons). Rissa enjoyed coloring with them (and trying to eat them…). I'm not sure if every book arrives wrapped up like this – I hope so! It's super cute especially if you are giving it directly to a child. It's like having a pen pal send you something fun!
I read through the story and thought it was fun and cute. Frank has to face his fears – he doesn't like big cities. But, he's a good bear and goes along with Bronte. I didn't try to read it to Rissa at this time only because I know it isn't her style right now (she's only a year old, after all). I like how it teaches some geography, some Russian words, and landmarks in Moscow. It's a neat way to travel in the mind!
Where to buy: Visit Bronte & Frank's website to purchase this set for $24.95
______
FTC Disclosure: I received the product(s) mentioned above free of charge by the company or PR representative in order to conduct an honest review. I was not compensated in any other way for this post. The thoughts, experiences, and opinions included are entirely my own and may differ from that of others. I am not liable for any issues you may incur from use of said product(s). Images used are owned by me or provided with the company's permission unless otherwise sourced. See full disclosure information. If you have any questions you can contact me or leave a comment.
Subscribe
Get weekly sanity saving parenting tips, recipes, and kids activities.