12 Days of Gifts Galore: ALEX Toys Stretchy Puppy
The 12 Days of Gifts Galore giveaway event is going on now and ends today (December 6th)! Be sure to enter to win a prize from this event sponsor!
ALEX Toys strives to provide quality creative toys to help encourage self-expression and build their self-esteem. Exploration play is important for baby's learning! Many of their toys have earned various awards as well. While that is great, my focus is on "will my daughter play with this?"  And the answer is…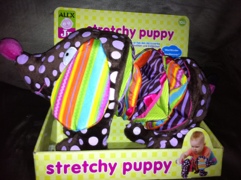 We received the Stretchy Puppy toy. He's pretty neat! Brightly colored, various textures, different sounds… he can keep Rissa busy for a minute. I like this kind of stretchy dog over the old school ones because there isn't a metal spring to worry abut. The Stretchy Puppy is soft and crinkly. His tail rattles, his nose squeaks, and his body has different textured fabric making him great for sensory exploration. Rissa likes to chew on his tail, which is helpful for teething.
The Amazon site is a little weird because it says not for under age 3 due to choking hazard but there aren't any small parts that are separate from the puppy. He's intended for 10 month old babies, so I fail to see the choking hazard issue. I also love that since there aren't springs, we don't have to worry about the metal getting bent or tangled up.
Rissa's development is a little beyond this toy but she does still enjoy making him crinkle. She finds that's easier to do than popping bubble wrap! I wish we would have had this little guy sooner for her. I think she would have gotten a whole lot more use out of him! We'll definitely save this for the next baby and for her little cousin to play with during visits.
Where to buy: ALEX Toys or Amazon
Connect with ALEX Toys on Twitter and Facebook!
______
FTC Disclosure: I received the product(s) mentioned above free of charge by the company or PR representative in order to conduct an honest review. I was not compensated in any other way for this post. The thoughts, experiences, and opinions included are entirely my own and may differ from that of others. I am not liable for any issues you may incur from use of said product(s). Images used are owned by me or provided with the company's permission unless otherwise sourced. See full disclosure information. If you have any questions you can contact me or leave a comment.
Subscribe
Get weekly sanity saving parenting tips, recipes, and kids activities.